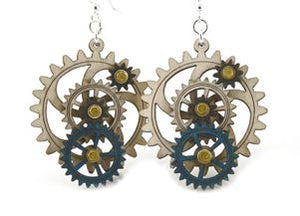 Are you a gear-head? Have a hard time matching your jewelry to your gold goggles?
No need to ruffle your bustle! These interconnected gears will keep you on track. The best part? All gears move!
These intricate wood earrings are laser-cut for precision, dyed natural wood and aqua marine surrounded by black satin
These earrings won't make you have steam coming out of your ears; they're lightweight, sustainably-sourced wood, made in the USA, use water-based dye, and the ear wires are silver-finished 304L stainless steel with new electrophoretic-coating that resists tarnishing
Size 1.65" x 1.5"
These beauties also double as an essential oil diffuser! Whether you prefer lemon EO to keep you alert and refreshed or lavender to calm your nerves, these earrings will be a stylish way to apply your essential oils all day!
Click below to see functional kinetic pendants to match this pair!