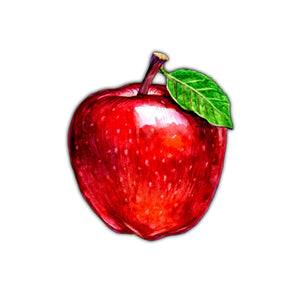 Made In U.S.A
Style # M012
Red Apple Magnet
Neodymium rare earth magnets are the world's strongest magnets. All magnets are not created equal!
2.2 Pounds of pull force, can hold 12 full size sheets of paper to metal
N42 Grade with Nickel + Copper + Nickel 3-layer coating 
Available in 3 sizes! -

Mini (1.2" x 1.4")
Standard (1.8" x 2.1")

Ornament (will be created as custom item ~ 3" round or 2.85" square)

Comes as Shown (in your choice of paper or wood – see details below)
Birch Wood:
Made from eco-friendly, sustainably sourced birch wood
Laser-cut
3mm thick
Image on front with natural wood back
Smooth to touch, glossy finish
Can be used as an essential oil diffuser by placing a few drops on the natural wood back.
100% Recycled Compressed Office Paper:
A perfect representation of eco-mindedness given that most ornaments are plastic.
Our paper ornaments are the most eco-friendly Christmas ornament you can find on the market.
Made from 100% recycled raw office paper
2mm thick – comparable to 20 sheets of paper
Locally sourced material - designed, and crafted in San Diego, California
Produced with water, heat and pressure. Absolutely no additives!
Extremely rigid and strong
Must be kept dry – can apply essential oils to back side, but they may discolor paper after long-term use.
Soft to touch, satin finish