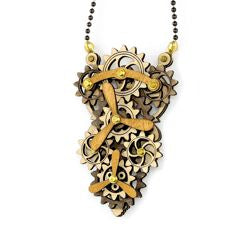 Made in U.S.A
Style # 6006A
Size 2.1" x 3"
Kinetic Piston Propeller Gear Necklace 6006A
All Gears Move!
Comes as shown - Natural Wood/Tan/Gray
All necklaces come on 30" long that can be cut down to any length
Made from sustainably sourced wood
Laser-cut wood
Stained with water based dye
These beauties also double as an essential oil diffuser! Whether you prefer lemon EO to keep you alert and refreshed or lavender to calm your nerves, these earrings will be a stylish way to apply your essential oils all
Click below to see functional kinetic earrings to match this necklace!