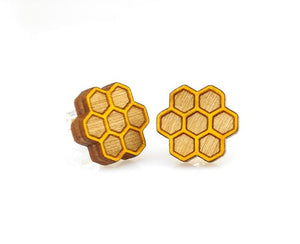 Made In U.S.A
Style # 3011
Size 0.5" x 0.5"
Honeycomb Stud Earrings
Comes as shown
This design is so sweet, it'll leave you wanting more.
Made from sustainably sourced wood and 90% recycled display cards.
Laser-cut wood that is extremely lightweight
Stained with water based dye
Earstud is Silver Plated Brass, hypoallergenic and applied with a non-toxic water based glue. Stainless steel silver plated earnut included.