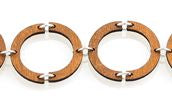 Made in U.S.A
Style # 7508C
Size: 1.1" X 6.5"-8"
Half Circle Bracelet 7508C
Comes as shown - Cinnamon
Second photo is just to show you the entire bracelet
Made from sustainably sourced wood and 90% recycled display cards.
Laser-cut wood
Stained with water baseddye
Doubles as an essential oil diffuser! Just add desired oil to natural wood back!
Click below to see earrings to match this bracelet!