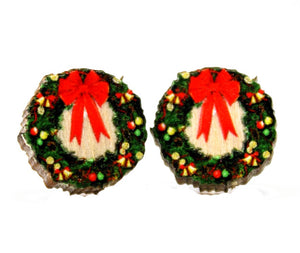 Made In U.S.A
Style # 3055
Size 0.5" x 0.5"
Christmas Wreath Studs
A cute and small alternative to the festive dangle wreaths we offer!
Comes as shown
Made from sustainably sourced wood and 90% recycled display cards.
Laser-cut wood that is extremely lightweight
Image on Front with Natural wood back
Earstud is Sliver Plated Brass, hypoallergenic and applied with a non-toxic water based glue.
Doubles as an essential oil diffuser! Just add desired oil to natural wood back!