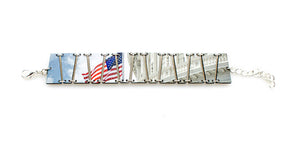 Made in U.S.A
Style # 7546
Size: 1" X 6.5"-8"
Capitol Building Flag Bracelet
Comes as shown
Made from sustainably sourced wood and 90% recycled display cards.
Laser-cut wood
Image on front with natural wood back
Doubles as an essential oil diffuser! Just add desired oil to natural wood back!
Click below to see earrings to match this bracelet!
1578
Check out our other full color patriotic bracelet here!