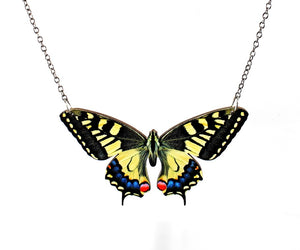 Made In U.S.A
Style # 6100
Size: 3.7" x 2.0"
Butterfly Necklace
Did you know there are over 500 species of Swallowtails?!
Made from sustainably sourced wood and 90% recycled display cards.
Laser-cut wood
Image on Front with Natural wood back
Made in USA stainless steel chain
Doubles as an essential oil diffuser! Just add desired oil to natural wood back!
Did you know we have earrings to match this necklace? Click below for those!
1560