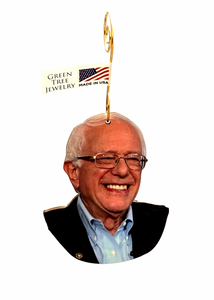 Made In U.S.A
Style #T038
Size 2.4 x 3.0
Bernie Sanders Ornament
Doubles as an essential oil diffuser! Just add desired oil to natural wood back!
Comes as Shown (in your choice of paper or wood – see details below)

Birch Wood:

Made from eco-friendly, sustainably sourced birch wood
Laser-cut
3mm thick
Image on front with natural wood back
Smooth to touch, glossy finish
Can be used as an essential oil diffuser by placing a few drops on the natural wood back.

100% Recycled Compressed Office Paper:

A perfect representation of eco-mindedness given that most ornaments are plastic.
Our paper ornaments are the most eco-friendly Christmas ornament you can find on the market.
Made from 100% recycled raw office paper
2mm thick – comparable to 20 sheets of paper
Locally sourced material - designed, and crafted in San Diego, California
Produced with water, heat and pressure. Absolutely no additives!
Extremely rigid and strong
Must be kept dry – can apply essential oils to back side, but they may discolor paper after long-term use.
Soft to touch, satin finish
*This product is not a politicalstatement by Green Tree Jewelry or carry any form of endorsement, but wedo firmly believe in the fundamental right of free speech and freedom ofexpression.
*It's important to keep in mind: "Ahealthy democracy is about living with disagreement, not eliminating it."

If this candidate is not your cup of tea, click here to see allthe candidates we have available!