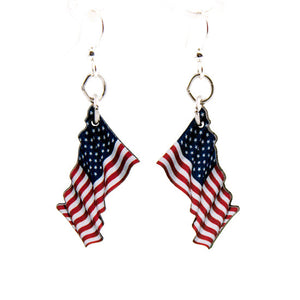 Made In U.S.A
Style #1578
Size 1" x 1.1"
Waving American Flag Earrings
The American Flag waves proudly in front of many homes and businesses, Now you can wear it any day of the year to show you're proud to be an American!
Comes as shown
Made from sustainably sourced wood and 90% recycled display cards.
Laser-cut wood
Picture perfect image on front, natural wood back
Ear wires are silver-finished 304L stainless steel, hypoallergenic, and enhanced with a new, smooth and consistent electrophoretic coating that resists tarnishing.
Earrings come as shown
Be sure to check out the matching bracelet and necklace for this pair!